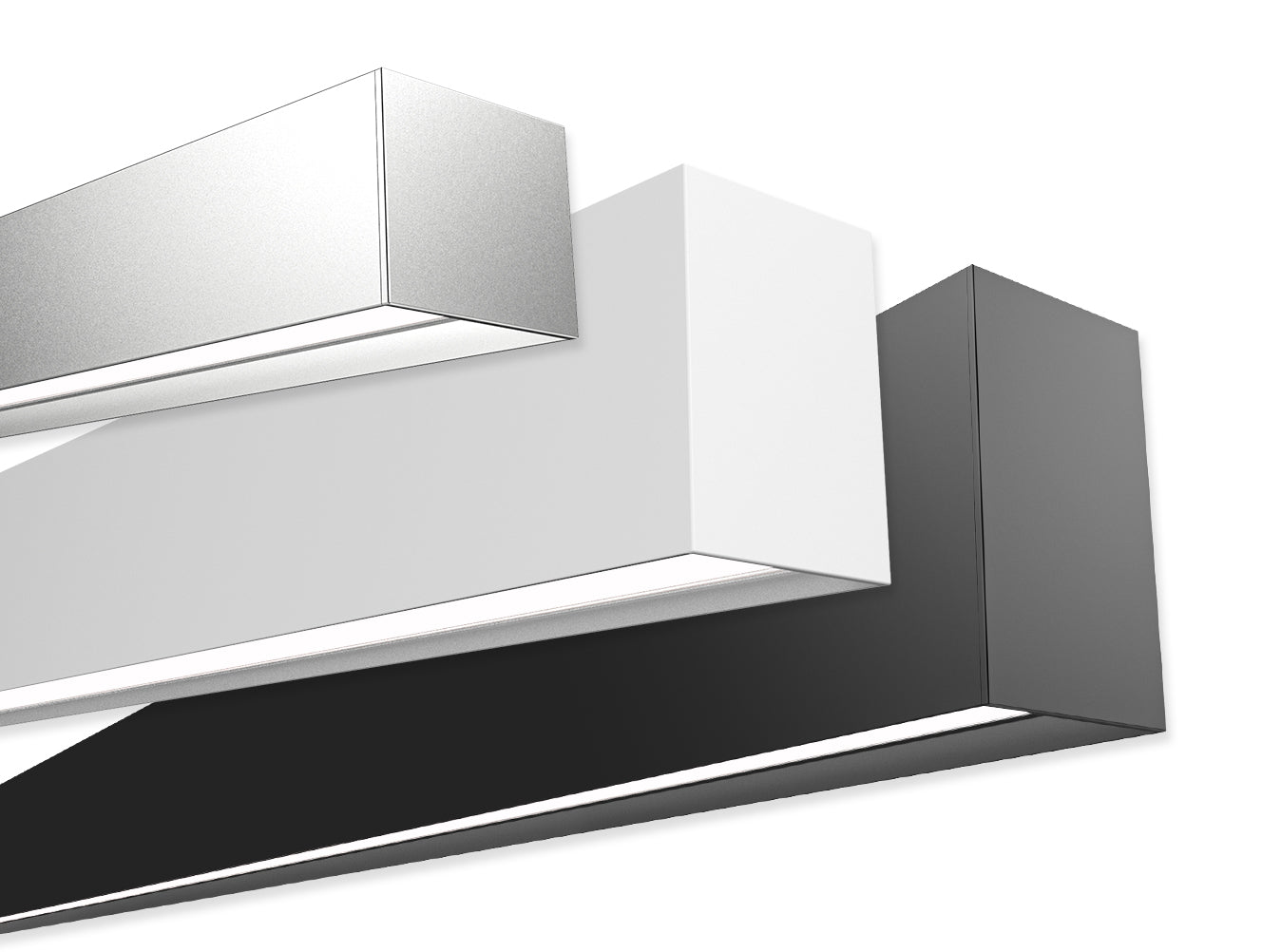 Highline 05 Luminaires
Our HIGHLINE 05 luminaires are a popular, modern lighting choice for both residential and commercial lighting projects.

These can be either suspended as a pendant or surface mounted, providing either direct or indirect & direct illumination. The luminaire is available between 1 and 3 metres to your desired length. There are options of silver, black or white powder-coat finishes and choices between the classic flat or softer curved edge end caps. And all of the Highline 05 luminaires use our continuous rolled prismatic diamond-cut diffuser which means no gaps and increased visual performance with a reduction in glare.
Longer lengths and bespoke shapes are available by request as custom products.

View Highline 05 Luminaires
OPTIONS & FEATURES
LIGHT SOURCE

Down lighting only (available for all sizes).

Great for task lighting on benches or surfaces.




Up & down lighting with two circuit control (57 × 78mm & 57 × 100mm)
Indirect lighting is a glare free approach to illumination that brightens a space.

MODEL

Luminaires are available in three heights.




50mm, 78mm, 100mm

All models have a width of 57mm

LIGHT COLOUR

2700K Extra Warm White

3000K Warm White

4000K Natural White


Choose warm white for an inviting & cosy feel - perfect for homes. Use natural white to simulate daylight and create crisp, vivid work spaces and offices.

CUSTOM LENGTH

Each luminaire is made to your desired length between 1 and 3 metres.



Perfect for matching to an existing bench top or working to that unique office configuration.

TRIAC DIMMABLE DRIVER

All luminaires come with TRIAC dimmable drivers.




50mm model (Offboard driver)

78mm & 100mm models
(Onboard driver)

WATTAGE, LUMENS & PHOTOMETRICS

Downlight
25W & 1900 lumens per metre


Up lighting
18W & 1100 lumens per metre




A set of photometric files are available for your lighting designs.

FINISH & END CAPS

Silver, Black or White powder-coat


Select from either the standard flat or the curved edge end caps.


MOUNTING

Luminaires can be either suspended as a pendant or surface mounted. All suspension wires, clear flex cable and mounting kits are included.